Essex unites in sending climate action messages to world leaders to mark start of COP26
Thu, 04/11/2021 - 15:27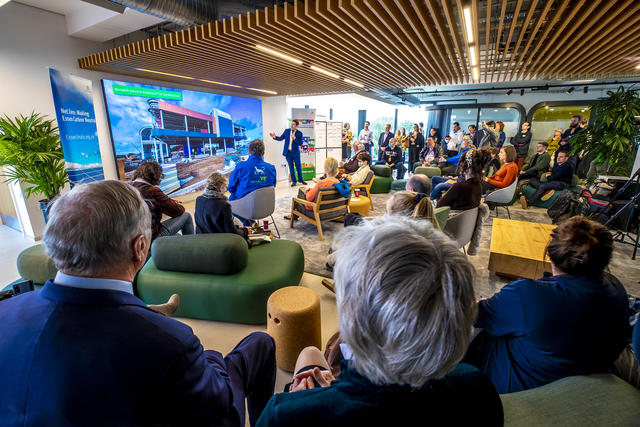 Community, business and political leaders from across Essex joined together to discuss climate action and send handwritten and video messages to world leaders as part of 'The Electric Road to COP26' event at GRIDSERVE® Electric Forecourt in Braintree on Friday 29 October.
Hosted by GRIDSERVE and Essex County Council in association with the Essex Climate Action Commission (ECAC), the event saw senior figures from the local authorities of Basildon, Maldon, Harlow, Chelmsford, Southend and Braintree meet with prominent business owners, local representatives, community organisations and residents to hear about the positive actions being taken to combat climate action in the county.
A roster of influential speakers at the event included 16-year-old Hattie Phillips, a climate activist and WWF ambassador from Maldon, who will be attending the COP26 conference in Glasgow this week. Alongside an impassioned speech on the importance of green education and careers, Hattie premiered a dress that she, together with a group of 'craftivists', created using only recycled materials.
Handwritten messages from attendees sharing their thoughts on climate action were collected at the event and will be delivered to world leaders during COP26.
EVA England, the membership organisation for supporting existing, new and prospective electric vehicle drivers, and former Top Gear presenter and electric car enthusiast, Quentin Willson, also joined leaders at the event to welcome a convoy of electric vehicles from nine different European countries to GRIDSERVE®, as they made their first UK stop on a 100% electric journey to Glasgow for COP26.
Cllr Peter Schwier, Climate Czar at Essex County Council said: "It was fantastic to join with leaders from across Essex at the Electric Road to COP26 event to truly demonstrate our county's united commitment in working together to tackle the climate challenge in Essex.
After engaging in so many positive discussions and hearing the decisive steps many local authorities, senior figures, community groups and residents are already taking to protect the planet, I left the event feeling so proud and inspired for the future of Essex."
You can watch the event here.