Essex set to become safer, greener and healthier
Tue, 02/11/2021 - 09:41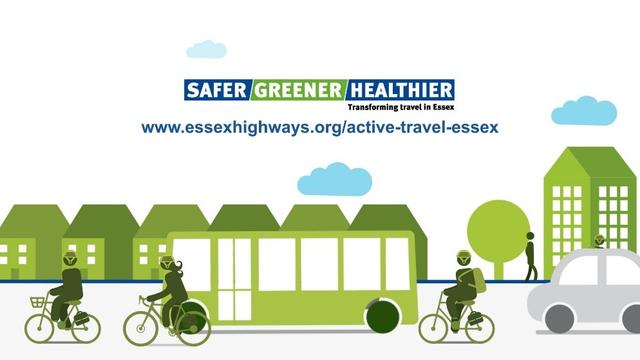 Exciting new measures to make it easier for residents to walk or cycle have been given the green light today following a decision by Essex County Council.
The new schemes are all part of ECC's ambition for Essex to become safer, greener and healthier by making it easier and safer for residents to walk or cycle, reducing traffic congestion, cutting air pollution and improving residents' physical and mental wellbeing.
Consultations recently took place in Braintree, Brentwood, Chelmsford, Colchester and Wickford. The findings revealed that over 90% of Essex residents were concerned about traffic congestion, air pollution and road safety. Action to tackle speeding was the highest priority followed by a desire for less traffic overall and for children to be able to play, walk and cycle in their neighbourhood.
Details of the schemes:
Braintree
Segregated cycleway on Station Approach
Fairfield Road (Victoria Street) to Coggeshall Road on carriageway cycle facilities
New compact roundabout at junction of Coggeshall Road / Courtauld Road with zebra crossings on all arms
Rayne Road/Bank Street on-carriageway cycle route with a modal filter
Cycle routes along Coggeshall Road and Panfield Lane
Two School Streets
An experimental modal filter will be implemented near Bocking End, placing a restriction on cars with only cyclists, taxis, buses and businesses with existing access permitted to continue onto Coggeshall Road. An experimental Traffic Regulation Order will be issued which will trigger further consultation.
Brentwood
School Street on Sawyers Hall Lane and Middleton Hall Lane
Potential Park & Stride locations, with 'walking buses'
Segregated on-road cycleway between Crescent Drive and Wilson's Corner
20mph speed limit reduction to promote Liveable Neighbourhood
Installation of cycle parking near Wilson's Corner and Shenfield Rail Station
Chelmsford
Both routes 2 and 3 will proceed as planned including:
Improvement to riverside cycle routes from Victoria Road to Waterloo Lane
Raised table and on-carriageway cycle markings along Waterloo Lane
Tindal Square improvements to walking and cycling via Chelmsford Growth Package
Market Road contraflow cycle lane eastbound and on-carriageway cycle markings along Market Road westbound
Trinity Road School Street measures
20mph zone refresh and extension to Queen Street and Navigation Road
Springfield Park Road / Springfield Park Lane junction alterations (with no net loss of parking on Springfield Road)
Chelmer Road / Sandford Road junction improvements
Active Travel Route 1 Chelmsford Railway Station to Great Baddow, which included Old Moulsham Quartering proposals, will not go ahead as it received little support.  ECC are open to progressing other workable and acceptable options for this area so we will be working with Sustrans, the national walking and cycling charity, to explore alternatives and seek future funding sources for delivery.
Colchester
School Streets cluster off of Lexden Road and 20mph speed limits
2km of flow segregation on-carriageway on Lexden Road from Spring Avenue to Crouch Street
Crouch Street (West and East) eastbound: contraflow cycleway provision, improved public realm, reduced parking and surface crossing for pedestrians and cyclists.
At grade crossing at Balkerne Hill
Return St Johns Street to original highway layout
Vineyard Street to East Hill: on-carriageway one-way provisions for east and west.
20mph speed limit and minor kerb changes to corridor of High Street & Queen Street
A134 Station Way southbound bus lane
Segregated cycleway provision on Head Street
Experimental High Street TRO restricting general through traffic
Junction improvement at Head Street / Crouch Street East / St Johns Street to enable cyclists to move safely between the north to south/east to west routes
20mph speed limits
School Street for Colchester North Primary
Wickford
A Nevendon Road Schools Street and Liveable Neighbourhood