Residents can sign-up to renewable electricity and fix their tariff as the Essex Energy Switch returns
Tue, 12/09/2023 - 17:29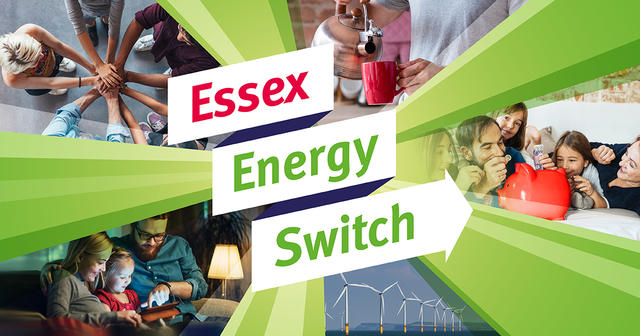 The Essex Energy Switch returns from Monday 4 September to make it easier to find a competitive deal and support renewable energy.
The Essex Energy Switch is back from Monday 4 September, helping local communities come together to take the hassle out of searching for a better energy rate and supporting renewable energy.
Since the scheme launched in 2014, thousands of people across the county have switched suppliers using the scheme, often saving hundreds of pounds on their energy bills. 
The Essex Energy Switch is a group buying scheme for gas and electricity. It is free to register and there is no obligation to accept an offer. The more people that register, the greater the collective buying power of the group.
Furthermore, all Energy Switch suppliers must provide 100% renewable electricity, helping to reduce carbon emissions in the county as part of a move towards net zero.
Essex County Council's Climate Czar and Cabinet Member for Environment, Waste Reduction and Recycling, Councillor Peter Schwier said: "Registering for the Energy Switch is quick, easy and helps you avoid searching for the best deals as all the hard work is done for you.
"After a difficult couple of years in the energy market, we're delighted to see the scheme return and once again support efforts to help Essex residents to potentially save money on their bills.
"The amount of money that can be saved will vary depending on individual factors, such as the current tariff, payment method and consumption. Savings, or where there are no savings, are clearly displayed in the personal offer received. While there is no guarantee that an offer will be the cheapest, the model aims to ensure most people are offered lower annual energy bills than they are currently paying or are available at the time of the offer.
"Registration for the Essex Energy Switch is free and only takes five minutes so why not take part?"
Pre-approved energy companies will bid at an auction to see who can offer the lowest energy tariff. Once the winning bidder has been selected, anyone who has registered will receive a personal offer. There's no obligation to switch – but for customers who decided to proceed, the process is taken care of by the winning supplier.  
Registration can be done online at www.essex.gov.uk/energyswitch, or by calling the Big Community Switch registration line on 0800 048 8439 to register and receive correspondence by post. Lines are open Monday to Friday, 8am to 5.30pm. Those looking to sign up should have a recent energy bill to hand.