Essex Developers Group launch their Climate Action Charter making a commitment to become net-zero by 2030
Wed, 08/06/2022 - 15:08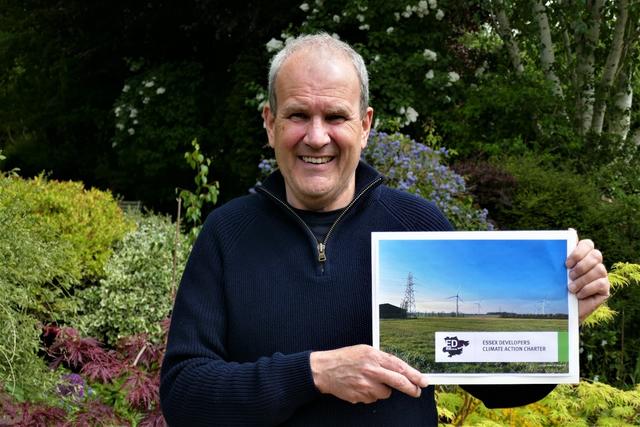 With a four-fold aim to: securing global net-zero by mid-century and keep 1.5 degree C within reach, adapting to protect communities and natural habitat, mobilising finance and working together; this Charter supports the  UK Government policy and their Net Zero Strategy – Building Back Greener  and the Essex Climate Action Commission report Net Zero: Making Essex Carbon Neutral.
The Charter sets out a common shared understanding, acknowledging the important role each partner has to play in tackling climate change. Shared goals and strategies are set out along with a series of actions that will take forward the principles of the Charter.  These will include promoting net zero carbon show homes, case studies, sponsorship of apprenticeships, climate action awards and advice packs for businesses. Further details including a link to the Charter can be found on the Housing Essex website Climate Action topic page: https://www.housingessex.org/topic/climate-action/
Professor Jules Pretty, Chair of the Essex Climate Action Commission, said: "The Charter is important work and supports the wider Essex Climate Action Commission, as Chair, I am delighted to endorse the document".
The Chair of the Essex Developers Group, Mark Curle commented: "Working together to deliver the ambition to collaborate and respond to climate change across the built environment sector is very much alive. .. To this end, we (the Essex Developers Group) have signed up to a Developers Climate Action Charter and will develop a series of actions to support partners meet their zero carbon ambitions in the construction sector".
Richard Davidson, Director at Willmott Dixon and one of our Commissioners, also commented: "We fully support the ambitions of the Climate Action Charter, as a company we have already targeted all our new build and refurbishment projects delivered from 2030 to be net zero carbon in operation without offsetting. In doing so, we would like to share our experience and help to support the delivery of a meaningful action plan to meet these ambitious targets".
About the Essex Developers Group
Essex Developers Group (EDG) is working with the Government, Housing Minister, Homes England and South East Local Enterprise Partnership (SELEP) to accelerate sustainable housing delivery and affordable homes. Key areas of focus include planning, viability, construction skills, climate action, quality design and supporting SMEs / smaller house builders. 
For further information please see: https://www.housingessex.org/