Essex tree-planting project wins prestigious green award
Wed, 05/10/2022 - 14:39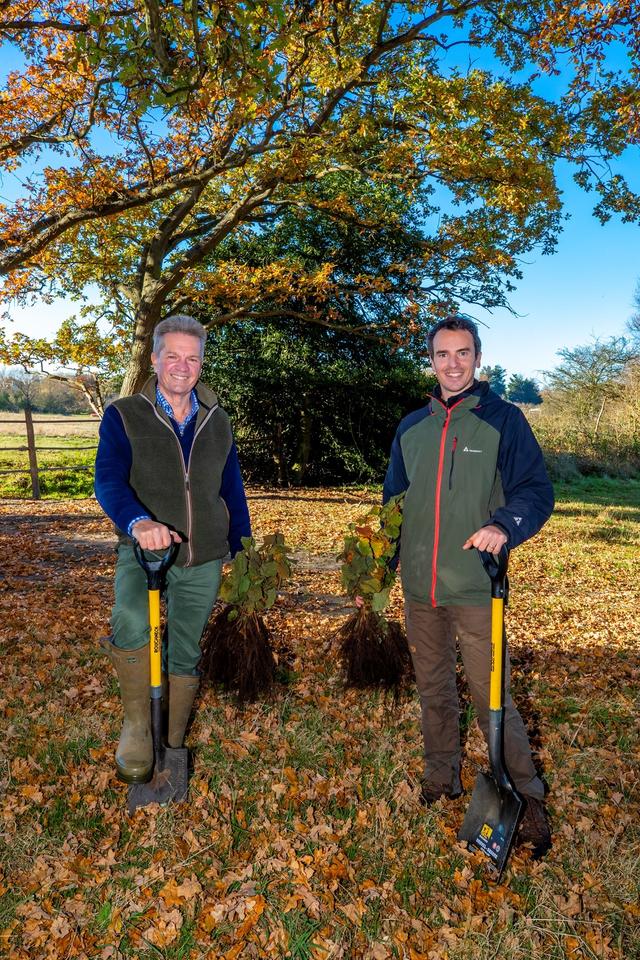 Cllr Peter Schwier and Essex Forest Initiative lead Tom Moat plant trees as part of the award-winning campaign to make Essex greener.
The Essex Forest Initiative has won a prestigious Green Apple Environment Award, as part of a campaign to reward and promote environmental best practice around the world.
Essex County Council's (ECC) initiative is a five-year project that involves planting 375,000 trees across the county. It is now in its third year and has already planted 143,059 trees.
The Green Apple Environment Awards are part of an annual international campaign established by The Green Organisation, an independent, not-for-profit, non-political environment group.
The awards were established in 1994 to recognise, reward and promote environmental best practice around the world.
The Essex Forest Initiative was up against more than 500 other nominations in the Green Apple Environment Awards. The awards ceremony will take place in the Houses of Parliament, London, on 21 November.
Cllr Peter Schwier, ECC's Climate Czar, said: "I'm delighted to have received this news. To see that the Essex County Council has been recognised for its hard work with the Essex Forest Initiative, at such a high level, is a brilliant step forward.
"Our organisational target at Essex County Council is to reach net-zero emissions by 2050 and planting trees is a very important part of our journey towards that.
"By increasing numbers of trees in both rural and urban areas, our resilience to climate change is strengthened too, helping to cut down the risk of flooding and extreme heat."
Cllr Lee Scott, Essex County Council Cabinet Member responsible for the Essex Forest Initiative, added: "The Essex Forest Initiative has been a prime example of what local authorities and local communities working together can achieve.
"By acting fast throughout each tree planting season, Essex is well on its way to being 375,000 trees richer.
"This award is very well deserved, as a recognition of the fantastic work being put in to enriching forests, rural green spaces and urban green infrastructure."
As the county's main tree planting project, the Initiative supports the creation of new woodlands by planting native trees in areas around Essex which have recently shown little to no ecological value.
With a flexible and broad approach, it enables tree planting to gain traction across the local area, involving communities, businesses and landowners.