All aboard the county's first ever Climate Awareness Train!
Fri, 10/06/2022 - 17:28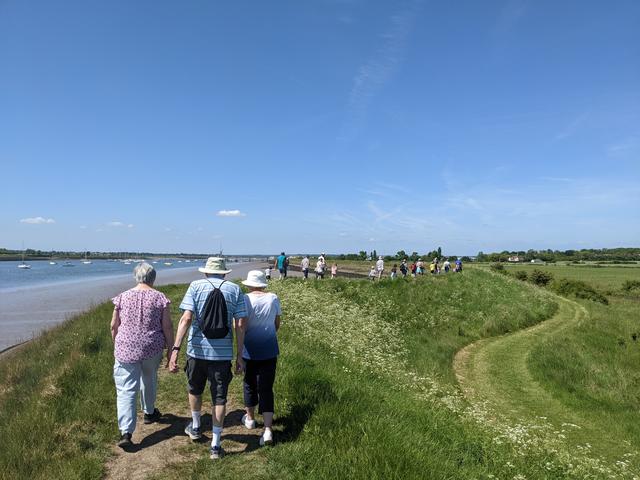 The Essex Climate Action Commission teamed up with Essex & South Suffolk Community Rail Partnership to inspire the next generation of environment enthusiasts with the county's first ever Climate Awareness Train on Sunday 22 May.
Developed alongside Essex County Council and Greater Anglia, the Climate Awareness Train has been created to help families understand local climate issues and ignite a passion for protecting our planet. The special event was also supported by Essex Forest Initiative, which pledged to plant a tree for each passenger aboard the train.
The Climate Awareness Train departed at 10:06am from Wickford Station where passengers were given a fun-filled activity pack to enjoy on their one-of-a-kind journey.
Disembarking at North Fambridge Station after a 15-minute train journey, the passengers were met by the Essex Wildlife Trust team for an exciting and informative guided walk through the Blue House Farm Nature Reserve and the nearby sea wall.  The walk was led by Blue House Farm Warden, Harry Smith, of the Essex Wildlife Trust and Tom Yiangou from Essex County Council, who both shared fascinating facts with the group. For example, did you know that North Fambridge was previously under water and was reclaimed in the post-medieval period? This means that sea level rise is a big risk to the area, with the threat that one day, without proper climate action, it could again be under water.
After a relaxing and educational walk in the midday sun, passengers headed across to North Fambridge Village Hall where they learned more about the action being taken across Essex to combat climate change, as well as being treated to tea, coffee and cake. Each resident received an Essex Advice Pack which detailed further information about how they could take what they learnt throughout the day to put into practice in their own homes. Passengers then caught a return train journey back to Wickford Station that afternoon.
We can't wait for the next one!